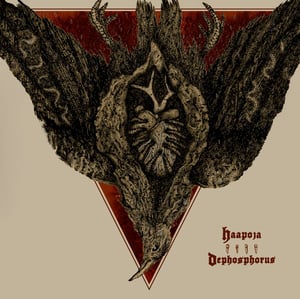 €

12.00
Released by Handshake Inc. 7degrees Records and Nerve Altar. Artwork By Viral Graphics.
Track listing:
1. Haapoja - We See With Teeth 02:22
2. Haapoja - Minä Olen Herra 02:37
3. Haapoja - Pakon Sanelema 03:10
4. Haapoja - Kaikki Murhasta 03:16
5. Dephosphorus - Aika 03:27
6. Dephosphorus - An Eerie Transmission 03:37
7. Dephosphorus - Abstraction Maze 03:13
8. Dephosphorus - Extract The Soul 03:59
9. Dephosphorus - Shades Of Reality 03:14
Haapoja:
Jyri Kuukasjärvi - Vocals
Pekka Kivelä - Guitar
Eero Kurkinen - Bass
Tuomas Ojala - Drums
Vocals on "We See With Teeth" by Panos Agoros, recorded in Northside Studio.
Recorded and mixed by Timo Hintsala
Mastered by Markku Jylhä
Dephosphorus:
All songs written, arranged and excecuted by Dephosphorus.
Engineered, recorded, mixed and mastered by Miltos Schimatariotis at Northside Studio (www.northside.gr). Drums recorded by Michalis Karpathiotis at Studio D.
Dephosphorus are:
Thanos Mantas (Guitar, bass)
Panos Agoros (Vocals)
John Votsis (Drums)
Vocals on "Aika" by Jyri Kuukasjärvi. Guitar solo on Shades of Reality by Pekka Kivelä.